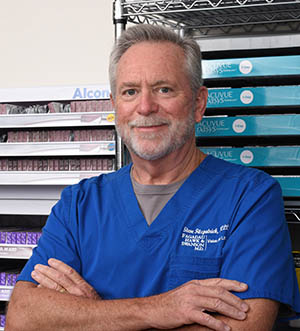 Steve Fitzpatrick is a registered contact lens optician with over 40 years of ophthalmology experience.
Mr. Fitzpatrick works with all ages to provide customized contact lens care for every patient. Steve's expertise has enabled him to specialize in contact lens fittings for the young including myopia control and complicated lens fittings for aphakic cataract infants.
He also specializes in irregular and post-surgical corneas, keratoconus patients, and bifocal/monovision patients.
He is certified by the National Contact Lens Examiners and the Joint Commission of Allied Health Personnel in Ophthalmology.
He is also a fellow of the Contact Lens Society of America.